<![if !vml]>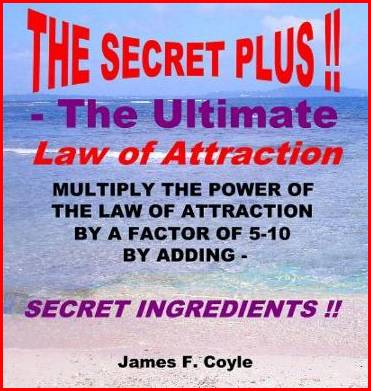 <![endif]>
**** SEE REVIEW BELOW
James Coyle was the founder and CEO of the AUSTRALIAN
MINDPOWER  RESEARCH FOUNDATION and the founder
of the AUSTRALASIAN LATERAL THINKING NEWSLETTER.
The LAW OF ATTRACTION works slowly but steadily when used properly.
But it works quickly and brilliantly when secret ingredients are added.
The exclusive material below explains how this happens and gives
real-life examples of absolutely stunning results achieved by
inexperienced individuals on often their first attempt!
The Law of Attraction is like a racing car sitting out there at the
starting grid with engine running......but with no driver inside.
The material in this book supplies the "driver"!!
When I was thirteen I discovered this marvelous affirmation that was supposed to achieve wonders. What I was supposed to say was......
"Day by day in every way I get better and better".
I was to repeat this over and over every time I thought of it. After 6 months I started to notice a very slight improvement.
And it is the same with the Law of Attraction if you apply it in the conventional manner. It will work incredibly slowly over a long period of time.
As my Mindpower Research Foundation considered this law to be at the foundation of all human achievement we focused on it for several years
and evolved processes that made it work far more quickly and effectively. In fact some of the reported results from our clients verged on the
miraculous! We eventually discovered that the addition of two separate simple mind technique protocols often created stunning results.
By adding these two techniques to the original Law of Attraction we created a simple program that produced amazingly effective outcomes
          which occurred rapidly and reliably.  Usually within 7 days you can feel the program working and sometimes it only takes 2-3 days.
          I am not aware of any other Law of Attraction program that works as well as this one.
This book is available only on Amazon Kindle.
UK Amazon     - https://www.amazon.co.uk/dp/B0054I2G28
USA Amazon   - http://www.amazon.com/dp/B0054I2G28
AU Amazon     - http://www.amazon.com.au/ebook/dp/B0054I2G28/
..................................................................................................................................................................
5.0 out of 5 stars A very distinctive book!, 10 July 2011
By
AMAZING BOOKS FOR YOU "AMAZING BOOKS FOR YOU" (UNITED KINGDOM) - See all my reviews
This review is from: THE SECRET PLUS - THE ULTIMATE LAW OF ATTRACTION; Multiply the power of the Law of Attraction by a factor of 5-10 by adding SECRET INGREDIENTS! (Kindle Edition)
This is a wonderful little book which condenses a great deal of the author's wisdom over the years. The most amazing shortcuts to mind control are set out simply and in great detail, making it easy even for beginners to understand and apply within a very short space of time. After reading and searching for over 40 years, I am so thankful to have stumbled over a practical and straightforward method of realising the power of the law of Attraction without a load of mumbo jumbo or useless pyschobabble.
The material in this book is a new twist on an ancient aspect of mind power and all I can do is recommend you to read this for yourself and add something substantial to your knowledge which you can use freely for the rest of your life.
TOTALLY FREE  -- 13  NEW  MINI-BOOKS
WAKE UP & LIVE!!
Spectacular life-enhancing concepts
Enter - http://www.mindtech.com.vu/wakeup.htm
HOMEPAGE  http://www.mindtech.com.vu/