<![if !vml]>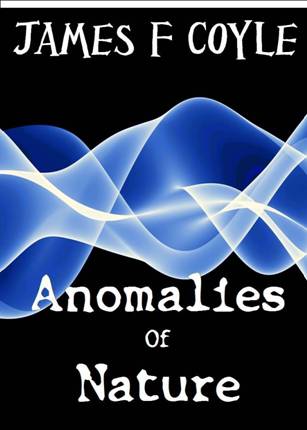 <![endif]>
             ANOMALIES OF NATURE
                          Copyright James F. Coyle 2011
There are a range of very weird quasi scientific effects out there which some of us are only partially aware of. I have presented them in the form of this mini-book so that you can ponder their significance. Some of these effects will be quite alarming if you are reading about them for the first time. They introduce the WOW! factor !!!
But remember..... they are real...... and they exist..... even if you have trouble believing them !!!
CHAPTER HEADINGS
1  -   Resonance
2  -   Hypnosis
3  -  The Bell Curve for winning lotto
4  -  The Hieronymous Machine
5  -  Time, Space, Matter, Energy and Consciousness
6  -  The Time Machine
7  -  Life Fields
8  -  The Psychotronic Generator
9  -  Scientific Psychokinetic experiments
10-  The Holographic Mind
11-  Remote Viewing & OBE's
USA -  http://www.amazon.com/dp/B006N0BEG0
UK  - http://www.amazon.co.uk/dp/B006N0BEG0
HOMEPAGE -  http://www.mindtech.com.vu
…………………………………………………………….
F R E E  -   THE EXTRAORDINARY WORLD OF CONSCIOUSNESS & LUCK
Amazing consciousness & luck connection discovered! Trigger luck on demand- a world first!
http://www.mindtech.com.vu/PK-luck.htm