<![if !vml]>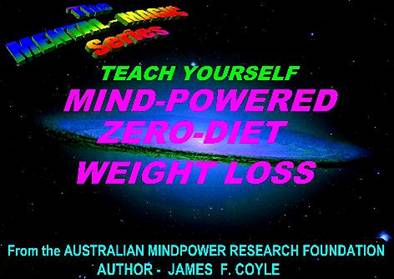 <![endif]>
TEACH YOURSELF
MIND-POWERED
 ZERO-DIET
WEIGHT LOSS
Copyright - James F. Coyle  2012
THE LAZY PERSONS WAY TO LOSE WEIGHT.
Why bother with diets when you can use simple mind techniques to achieve the same results, with little inconvenience and no hunger pangs. The AUSTRALIAN MINDPOWER RESEARCH FOUNDATION evolved this beautifully simple  but highly effective weight loss method which thousands of their clients have used successfully. In typical Australian
fashion it is different, unique and very easy to follow.
Your mind has a high degree of control over your body functions and by using simple "mental tricks" you can make this knowledge work to lose weight. Read the preview to discover more.......
USA - http://www.amazon.com/gp/reader/B007N6XPHY/
UK - http://www.amazon.co.uk/YOURSELF-MIND-POWERED-ZERO-DIET-WEIGHT-ebook/dp/B007N6XPHY/
HOMEPAGE -  http://www.mindtech.com.vu/