<![if !vml]>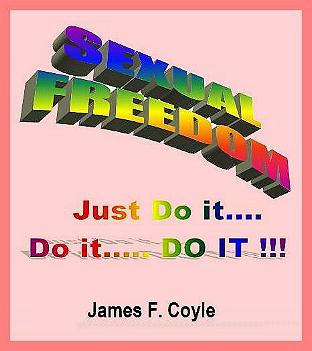 <![endif]>
SEXUAL FREEDOM; Just Do It! Do IT ! DO IT !!! - A non-serious comical look at the world's most popular sport!
A light-hearted look at the subject by a Kiwi who thinks sex is the most comical thing he has ever heard of, seen, listened to or tasted!

DANGER: This small book is 100% entertainment but only marginally educational, except for teenagers who will rave over it because it explains things they have
never thought about. Some solo aspects of it may cause you to go blind. Be warned!

Author's comment: This book has been written in a polite manner with no offensive words. My wife was looking over my shoulder as I wrote it!

Excerpts;....... "Sex is universal. You do not have to be able to speak English to do it. Even the French have been suspected of doing it which of course is of
serious concern to their neighboring countries!"

......... "too much self abuse may cause you to go blind which of course is why I am also releasing this as a Kindle audio book."

........... "Sex was originally invented in New Zealand. The Kiwis know this for certain. When the nearby country of Vanuatu found out they took this marvelous
 invention, modified it, adapted it, then introduced it to women. As it turned out, a very popular move!"

........... "The author claims he was fully qualified to write a book on sexual freedom because he has never paid for it!"

............ "Guys and girls have neat bits and pieces that seem to fascinate each other. Girls have these neat mammary glands which can be great fun. As a
secondary purpose they can also be used to feed infants. But this is not all that common!"

............. "In my youthful days condoms were thick unfriendly things. But if you joined 6 together end-to-end they made a great slingshot!"


Buy this book - figure out where you're going wrong - then just get on with it! What have you got to lose?
It's only going to cost you the price of  a small cheap smelly cigar!


Early comments from Australian buyers –

...... "The best send-up of sex I've read yet. The author should be nominated for a New Year medal, probably a KGB one." (Russian resident of Australia)

.......... "Disgusting and dirty. I pray God gets even with you." (Practicing Christian)

........... "So that's what this sex stuff is all about. I've often wondered." (40 year old guy living with Mum)

........... "Fantastic book but the author forgot to tell us how to actually do it. We want to know!"
(Weribel Girls Convent)
USA  -  http://www.amazon.com/SEXUAL-FREEDOM-Just-non-serious-ebook/dp/B006IL1W5C
UK -  http://www.amazon.co.uk/SEXUAL-FREEDOM-Just-non-serious-ebook/dp/B006IL1W5C
HOMEPAGE  -  http://www.mindtech.com.vu/